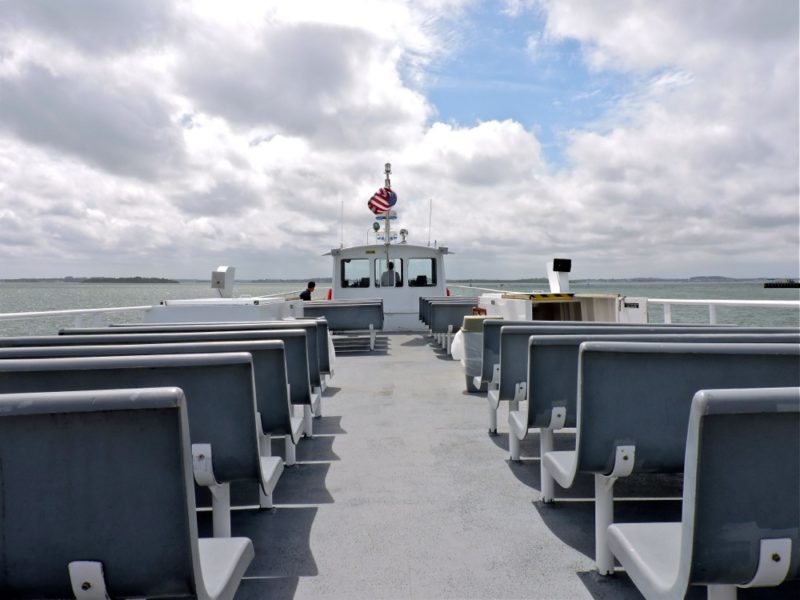 I changed up my travel plans on a recent Peddocks Island visit by riding the commuter rail to Boston instead of my normal ferry ride from Hingham Shipyard. Once at South Station, I walked (just under a mile) to Long Wharf, boarded the 10am ferry to Georges Island, then picked up another ferry to Peddocks – my final destination. I packed light to help in navigating the uneven pavement of city sidewalks with my rolling bag in tow. I forged on relishing the taste of salty air and ocean breeze that would soon be welcoming me once on the ferry. Turns out I had the upper deck to myself for a nice ride to Georges and again for transfer to Peddocks. I could not wait to begin this little retreat on my favorite island.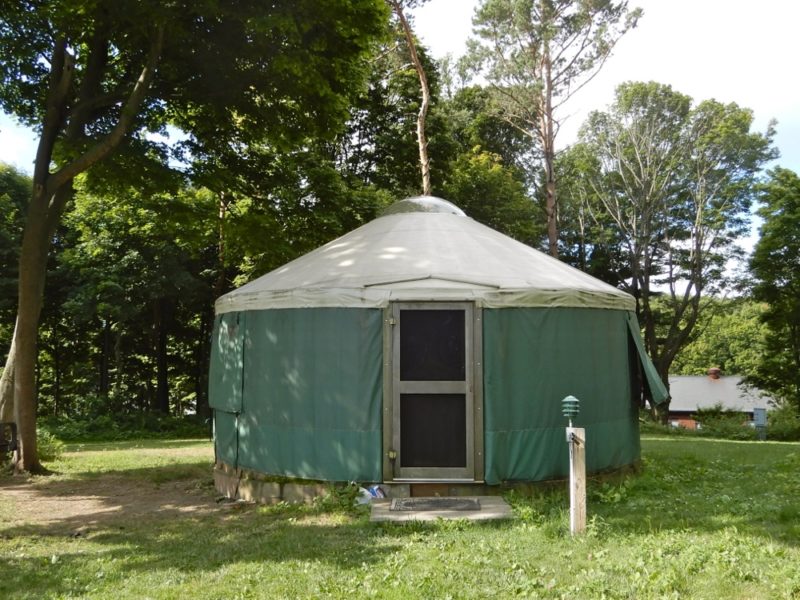 Arriving at Peddocks mid-morning under cloudy skies and high humidity, the first order of business was checking in with Ranger Kat. Next I hauled my bag to the yurts, nestled up on a bluff only a short distance from the Visitor Center, providing a nice overlook of neighboring Hull.
A regular pastime for me is walking the rocky shores, sometimes for hours on end, from one headland to the next. You need sturdy sneakers or light hikers for this purpose, as all travel is by foot. Some visits I go directly to Middle Head (village) to greet local islanders, many whom I've known for decades, before continuing on by shore, stopping at familiar rocks to rest and daydream.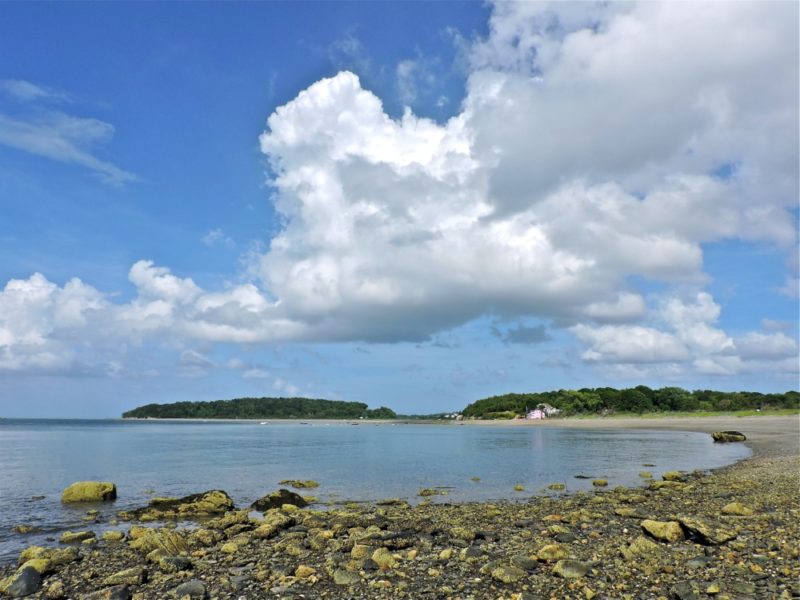 Low tide from West Head looking toward village and East Head in distance.
Encountering sun, rain, and the most amazing white fluffy cumulus clouds, (the "fair weather" indicator kind of what lies ahead weather-wise) proved to be perfect for my days on island. I remember thinking what a gift to be here at this time.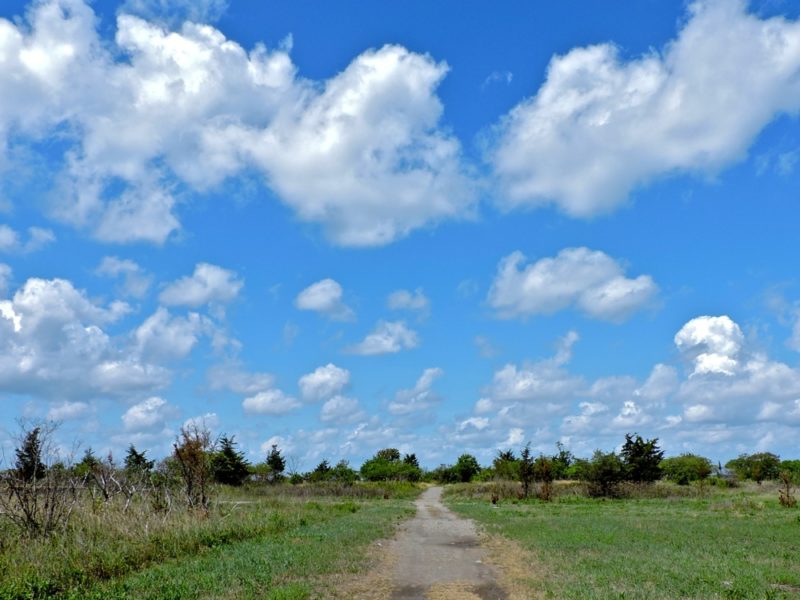 Walking across the tombolo to Middle Head.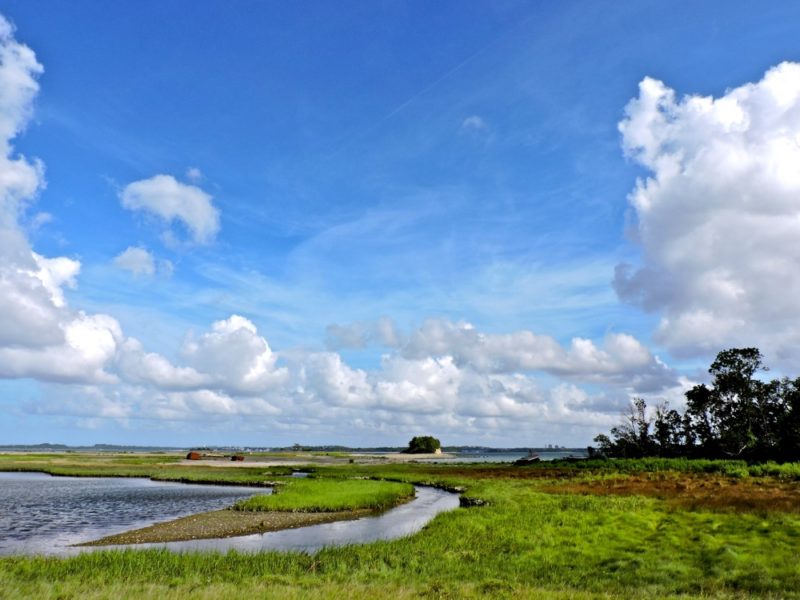 Along the path by the salt march, Princes Head in distance.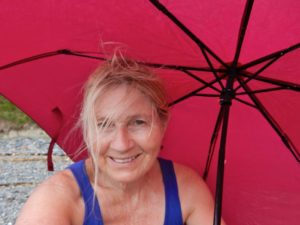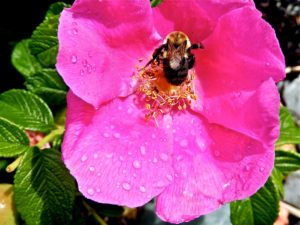 In a moment's notice there would be a light rain shower and I'd huddle under my rickety umbrella with no other shelter in sight, laughing all the while before continuing along my path as the sunshine reappeared. I had everything but a rainbow.
Wildlife is an integral part of island life. Waking early morning for a walk is a wonderful time to catch deer grazing below in the parade grounds of Fort Andrews, a former harbor defense base active through World War II. The island deer appear lean and slightly different in coloration from mainland deer. It's remarkable they thrive here. The islands are close to the mainland and Peddocks as well as other harbor islands have been home for them many years. I've always been intrigued with interesting island facts such as deer swimming the distance to relocate.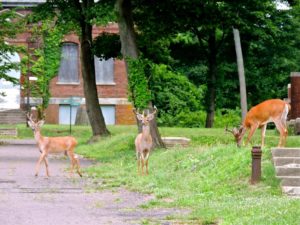 One male deer startled me as I took an early evening walk down the fort's paved road to catch the ocean sunset. He was nibbling in tall grass and made a loud neigh-like noise, seemingly ready to charge at me for interrupting dinner. I stood still but when I moved he moved. Not the typical deer encounters I'm used to. I snapped a photo and after a minute or so we went about our way. I've not seen or heard the coyote but they are here too. There has also been a return of the monarch butterflies this season, at least more than I have seen in recent years. I saw five fluttering about at the same time and many have stopped in my home gardens as well. It was one of the many pleasant surprises during this visit.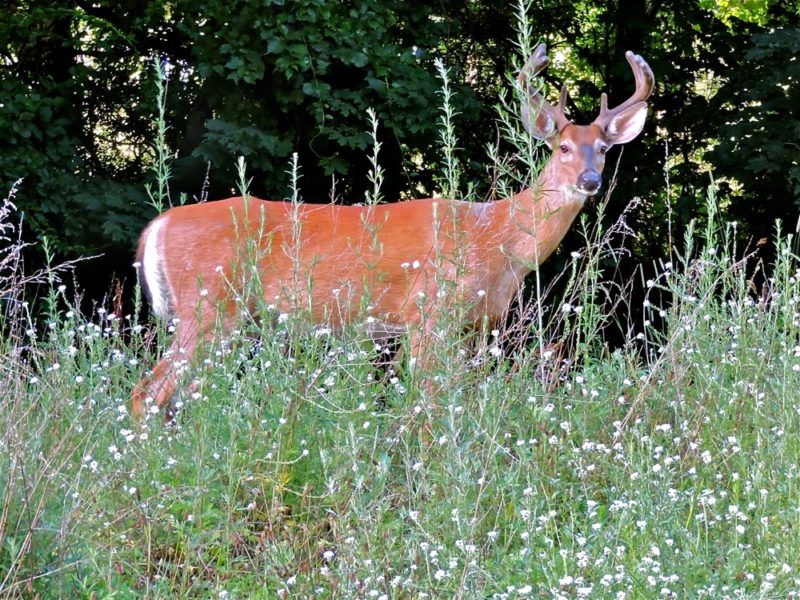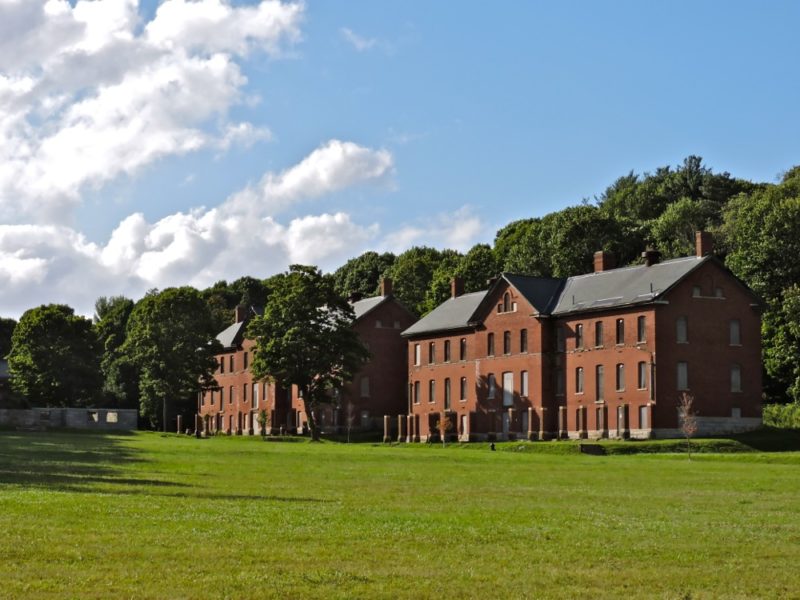 Late day – Fort Andrews, East Head.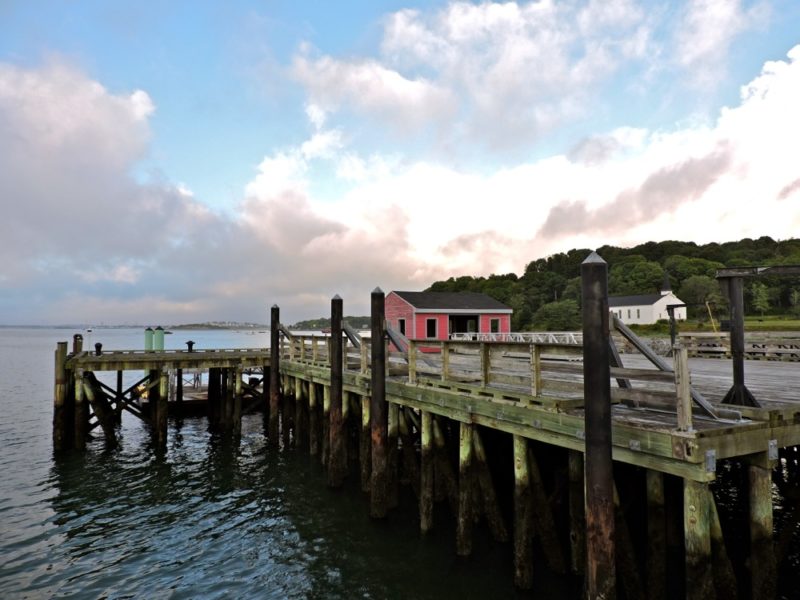 Morning – Peddocks Island Pier.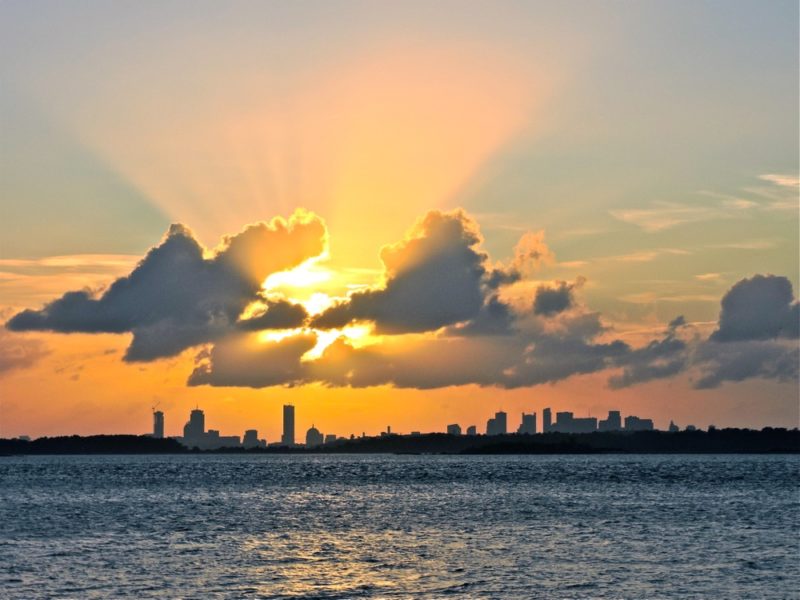 Amazing sunset from East Head with the Boston skyline.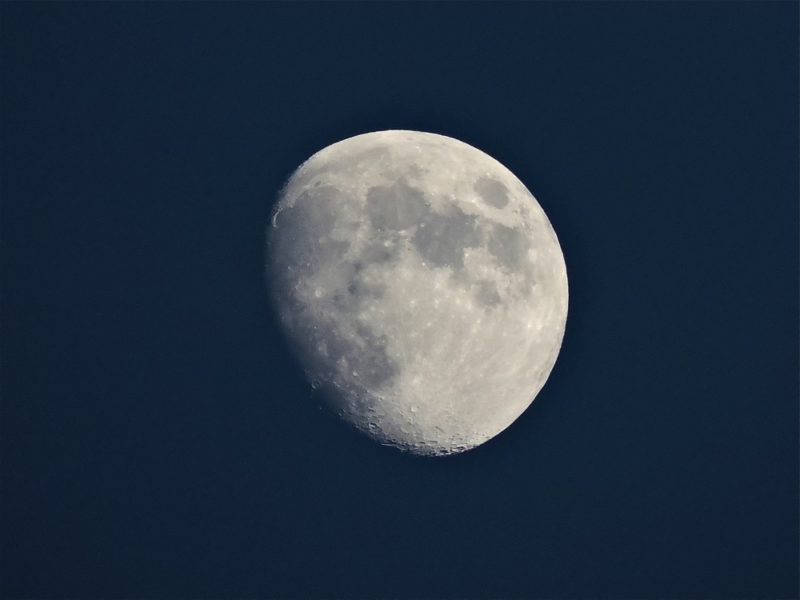 Night is a truly special time on island. The still of darkness is a breathtaking experience and the sound of crickets filling my yurt awakened me with their strong chorus as though I was sleeping among them. I was part of nature and loved it. Hopefully you'll make the journey to island to see for yourself.
The waxing gibbous moon was wondrous in the night sky. Until the next time… enjoy!
** FYI: "The National Park Service made a decision to formalize the island names without apostrophes, to indicate that they are place names."