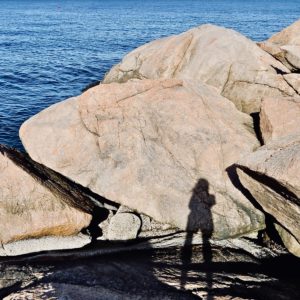 "I am drawn toward abstraction and the freedom it presents to creatively interpret the world around me. This process allows me to develop a piece conceptually, sometimes long before it reaches the studio. Experimenting with various media has enabled my process to evoke a physical yet internal structure, which I then slowly reveal through the many layering techniques that I use in my sculptural and two-dimensional work. Observing form, color, and texture in our ever changing environment, has greatly influenced my work, empowering me to further investigate a multitude of ideas, akin to my own life experiences."
Exhibiting in a variety of venues both locally and nationally, Robin MacDonald-Foley has been active in art associations and community projects in New England and California, including Cambridge Art Association, Mission Hill Artists Collective, and Ventura Artists Union. She is represented by Galatea Fine Art in Boston's SoWa Art & Design District. Her work is in numerous private collections, and has been widely published in healing arts, educational textbooks, and sports magazines. Robin was awarded a 2019 Boston Harbor Islands Artist in Residence, living in a yurt on Peddocks Island, leading a collaboration with national park visitors on a public project. Her interest in islands and climate change have been a major part of her photography subjects and ongoing series work. Robin is a recipient of the Mission Hill Fenway Trust Grants for art workshops, and currently teaches art in the Mission Hill area of Boston, where she enjoys working with adults and children of all ages. In 2020, while home based, Robin's outdoor studio space came to fruition, enabling her to continue stone work on a more permanent basis.
A Quincy, Massachusetts native, Robin received her Bachelor of Fine Arts Degree from the Art Institute of Boston at Lesley University, where she developed her creative expression in a wide variety of mediums. She was awarded a sculpture scholarship in 1981. Robin continued her interest in stone and sculpture while working under the guidance of Carlos Dorrien and William Wainwright at the former Sculptors Workshop in Somerville, Mass. Prior to AIB, Robin studied with three-time Fulbright scholar, Sol Levenson, receiving training in art and graphics at the Quincy Vocational Technical School. In addition to her fine art pursuits, Robin held a career in sign/trade show exhibit design, and earned a framers certification from Larson Juhl while working at J. Inman Gallery in Easton, Mass.
Her interests include rare art books, travel, and collecting in general. Robin is an avid bicyclist with a competitive background, who loves exploring the less traveled roads that inspire her art and writing. She lives in Stoughton, Massachusetts with her husband Dave and adopted cat Raven.
You can also view Robin's work at: https://www.galateafineart.com/