Healing arts are an important aspect of my work. Discovering this while drawing in the waiting room at the Dana-Farber Cancer Institute in Boston, Massachusetts, I began volunteer service in the Creative Arts Program, working with cancer patients and their families on special art projects. In 2004, I was was invited as a guest artist in a solo exhibit at the Institute, entitled Expressions of Healing, showcasing my own story of survivorship. During this important time, I devoted countless hours helping patients employ art to work through their feelings."
Programs, conferences, and workshops, include:
Dana-Farber Cancer Institute, Blum Resource Center, Creative Arts, Boston, MA
St. John's Regional Medical Center/Cancer Center of Ventura County, Oxnard, CA
"Academy for the Arts and Healing in Healthcare Settings," The Institute for Body, Mind and Spirituality at Lesley University, Mass General Hospital, Boston, MA. Speaker and art presenter on health care panel for Dana-Farber Cancer Institute.
"Pulse: Art, Healing, Transformation," The Institute of Contemporary Art, Boston, MA
National symposium on topic of art and health; its curative and transformative effects on a variety of aspects of life.
Society for the Arts in Healthcare, Yale University School of Nursing, New Haven, CT. Healing arts workshop with focus on creating healing environments through the arts.
Read more about Life Preserver:  Pink Closet
Read more about Pink Dress: Pink Dress
Expressions of Healing, 2004, Dana-Farber Cancer Institute, Boston, Mass. With my artwork and writing from my guest book.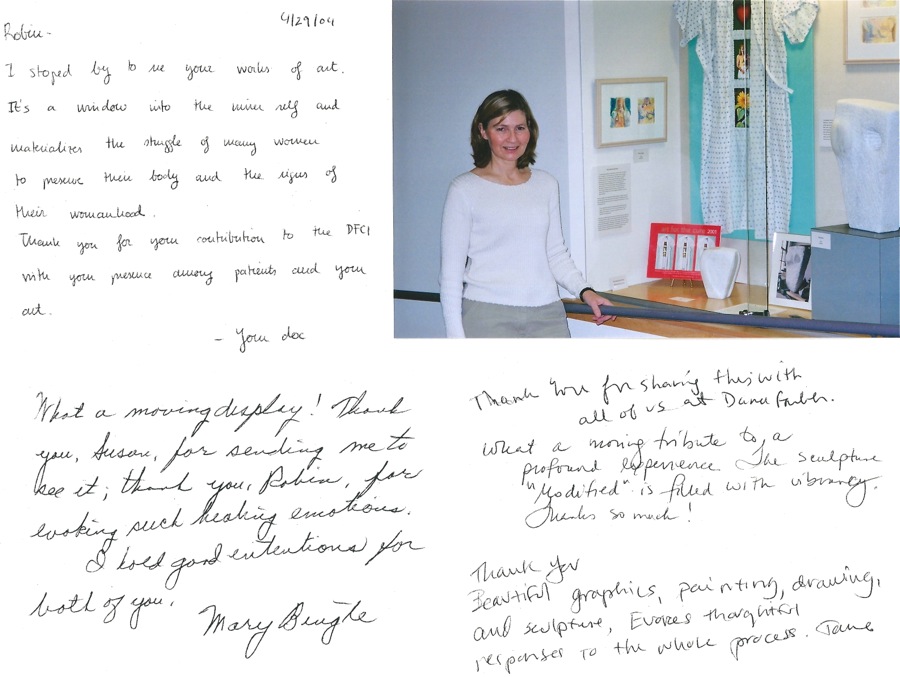 Body Image, self-portrait, diptych
2002, watercolor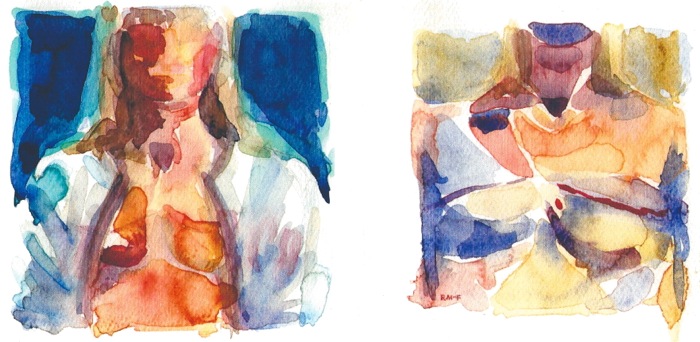 ---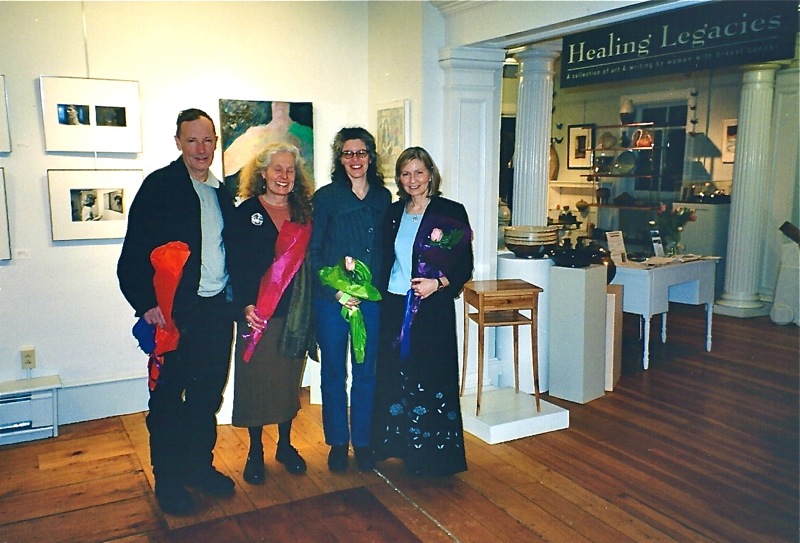 2004 Healing Legacies, A National Exhibit of Art Created by Women Facing Breast Cancer. Gallery on the Green, Shelburne, Vermont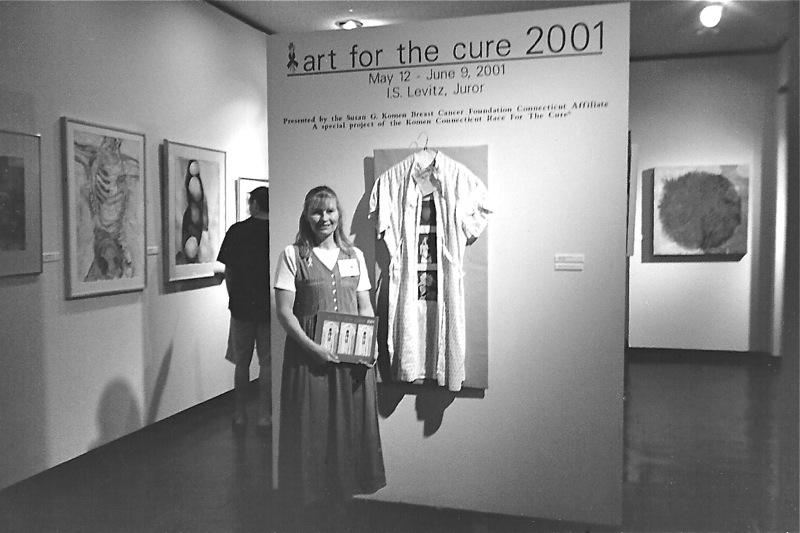 Art for the Cure 2001, New Britain Museum of American Art, New Britain, Connecticut.
The Johnny received Art for the Cure Award and catalog cover.
"I am humbled by the visual candor and exquisite sensitivity of the work in this exhibition. In Art for the Cure there is a beauty and vitality that is undeniable. It is the triumph of the human spirit over extraordinary circumstances." I.S. Levitz, Juror

My Johnnies
The Johnny
The Johnny (detail)
Pin-Up Girl
Pin Up Girl (detail)
The Mandala Project – Dana-Farber Cancer Institute, 2004
The mandala mobile was created over a sixth month period working with patients undergoing treatment at Dana-Farber Cancer Institute in Boston, Massachusetts.


"It is very rewarding to go directly to the patients bedside with my art cart full of supplies. I bring out the artist in them. They are surprised to see full color palettes and paint brushes. It is comforting to experience the smiles as they create their own unique pictures."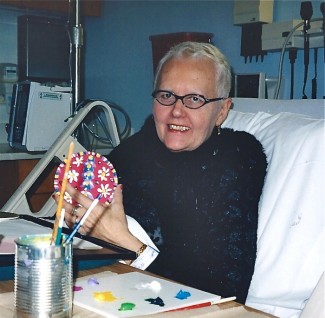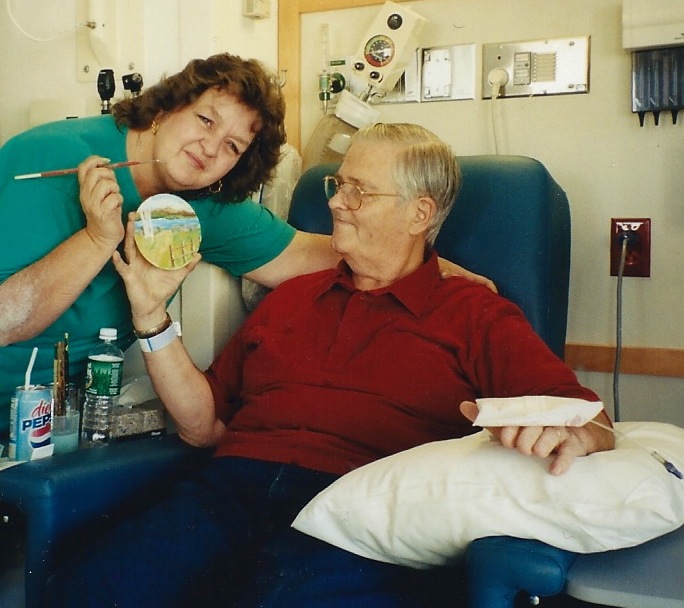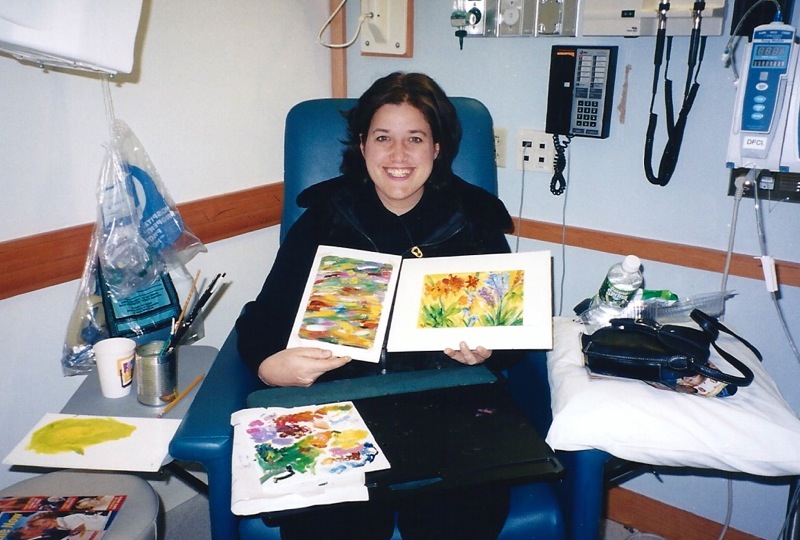 Working with patients, family and staff in the Creative Arts Program at Dana-Farber, forever changed my life. Patients became so engaged in the creative process that they would almost forget why they were there. Helping others find joy in painting is a wonderful experience. All the kind words meant so much to me.
I would like to share some of their beautiful messages~
"You gave my friend the great gift of your presence, your talent, and your compassionate heart. You allowed her to create something very special for her little ones. I am so grateful to you."

"Thank you so much for your heroic effort to pull me out of chemo and into the world of drawing and the new activity of color and paint. You were wonderful to draw me out and Dana-Farber were amazed that instead of bartering with them to go home early that I would be so engaged in finishing up the painting that the nurses would have to ask me to hurry as the chair was needed for the next patient!"

"Robin asked me to participate but I was very apprehensive. I did watch a lady paint and it was a beautiful experience. Then I decided to try my luck. Robin brought all the tools needed and just worked with me and I felt so relaxed during my treatments."

"For the first time I picked up a paint brush and went to work. Being a busy mom, I rarely have time to sit and do something for myself. I was surprised to find my painting looked like what I intended it to be and the following week I actually looked forward to going to my treatment to complete my artwork (me!) I am very thankful to Robin and this arts program, it helps to enjoy something that I actually dreaded."