From my series work When Trees Cry

About Dancing Tree ~During my public project art residency on the Boston Harbor Islands during the summer of 2019, I spent downtime documenting the erosion along the coastal shores. Befriending a certain decaying tree on my daily walks, noting its gestural qualities and beauty through lifeless limbs, I began to imagine the tree dancing before me. Dancing Tree was brought to life through a stunning dance performance, which was one of the featured pieces in my curated exhibition, In the Presence of Trees. This unique exhibition explored multiple mediums and artists, presenting a challenge that I embraced and grew from. Finding solace through nature helped me through the tough times of the pandemic. I'm grateful to see my beloved island and trees again in person, and look forward to continued visits to places that inspire my art and writing.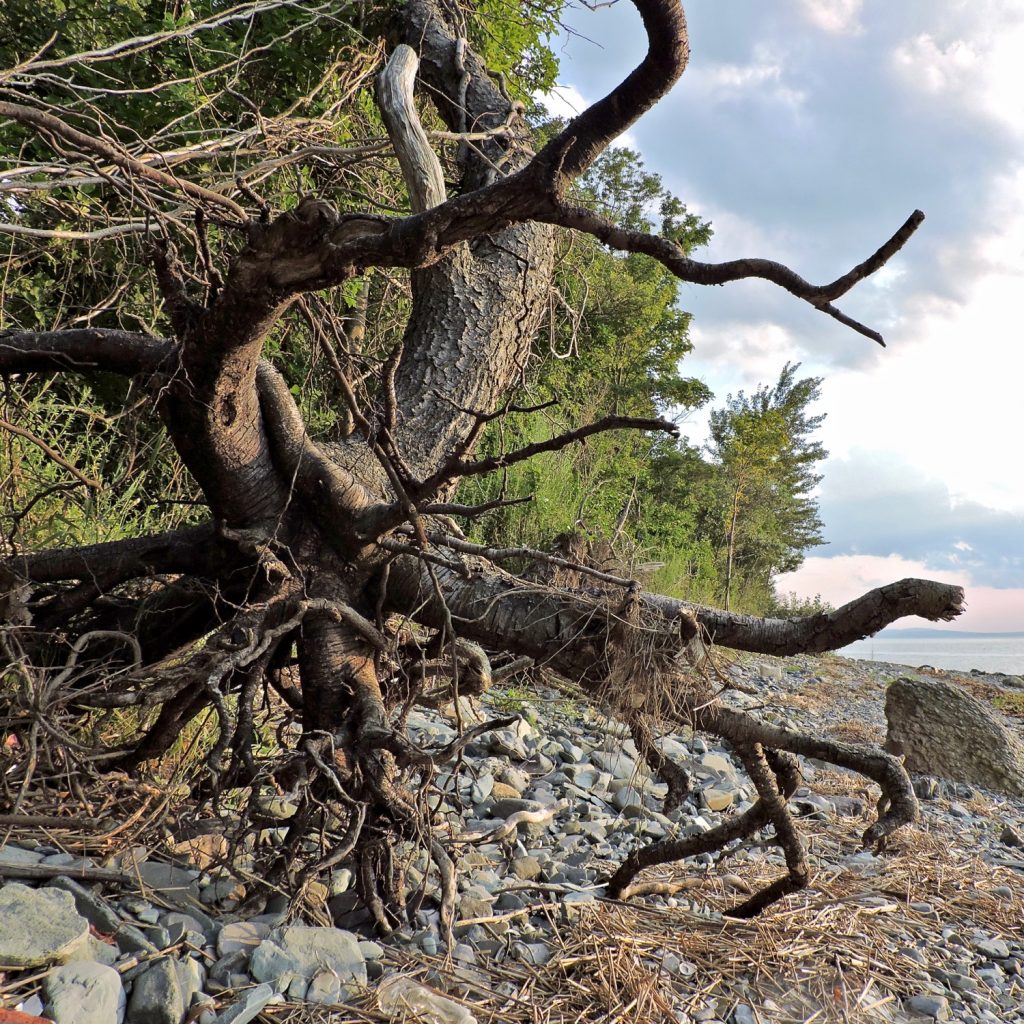 Dancing Tree
by Robin MacDonald-Foley

Beach tree rests in twilight's still,
as softly tinted clouds drift past,
beckoning this night for all,
a memory to last.
In perfect cast you set a tone,
pin pale rose blanket high,
to heavens backdropped glory
high above the sky.
You move with grace in finery,
to earthly friends delight,
a star-lit serenade to end,
a perfect close to night.
But lull-a-byes awaken,
spray toes and hamper sleep,
by water's edge in wistful hours,
do hear the beach tree weep.
When sunrise warms stiffened limbs,
and shadows rise to call the day,
once more I'll greet and ask of you,
to dance the day away.
Update 2022 ~ I continued documenting the beach trees during my summer visits to the island. Shuttered since 2020, the yurts were once again open and things felt a bit back to normal other than it being a severe drought season. Beach fires and even grilling were a bit more controlled. Park Rangers trimmed back some of the trees along the upper shoreline. They continue to succumb to erosion and rising tide levels. The aftermath of Dancing Tree and its clipped limbs almost became unrecognizable to me. I think it will just live on in its new form and remain very special to me.