There are five islands that make up the Channel Islands National Park. They are located off the coast of Southern California in the Santa Barbara Channel. I've visited two islands; Anacapa and Santa Cruz. Anacapa rises above sea level and is reached by scaling vertical stairs to the top. The rugged bluffs above offer dramatic views of the Pacific, varied marine, plant, and seabird habitat unique to the island. The larger Santa Cruz offers miles of rolling trails with beautiful coves and beaches. I love everything about these islands and look forward to going back for more exploration.
Santa Cruz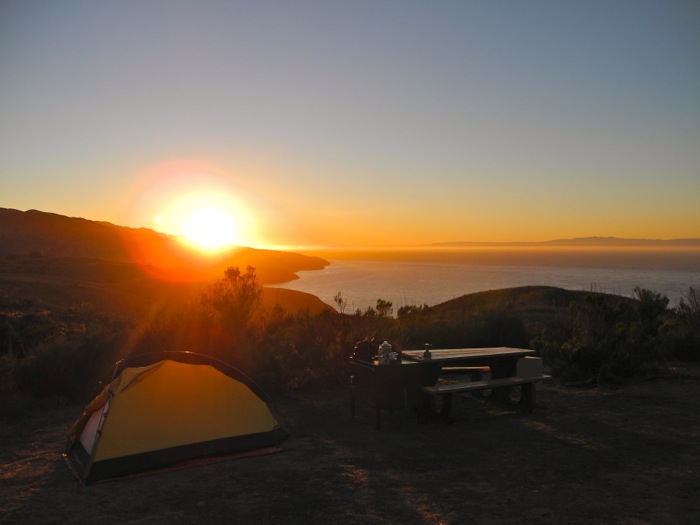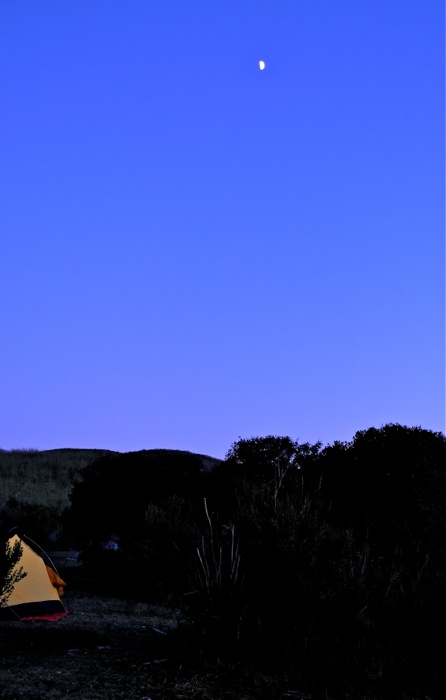 Golden sunsets, rolling hills, high bluffs, wildflowers, western gulls, sea lions, island fox and dolphin pods. Throughout the year, visitors can experience such flora, fauna, and sea life when visiting the Channel Islands National Park, located in Santa Barbara County off the southern region of California's coastline. Every experience is different with the most amazing features unique to each island–something for everyone.
My brother chose Prisoners Harbor for our backcountry adventure to begin. It's a sweet twenty mile boat ride from Ventura to get to this less populated side of Santa Cruz Island. Having not camped in years, I was pretty excited to be on the quiet side to enjoy the peaceful nature of it all.
Walking in to camp meant three and a half miles of dirt roads and rolling terrain that traverse inland and extend out toward the ocean. Hiking up by trail on open roads was noticeably warm with gear and packs, but once along the Pacific we felt a cool breeze, stopping now and then to take in the beautiful vistas.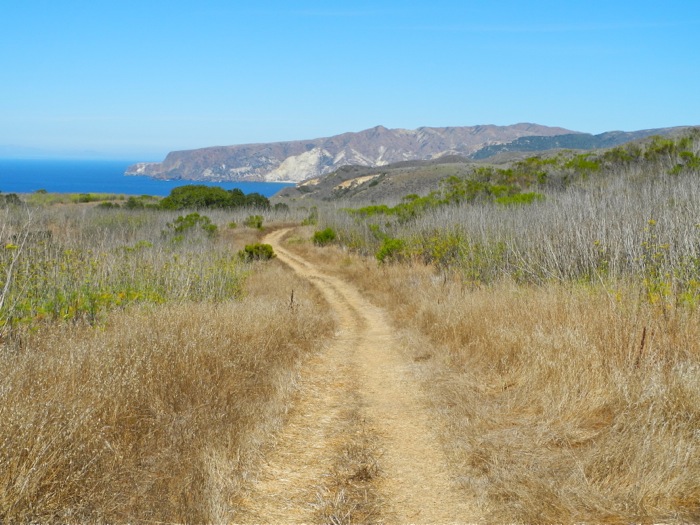 Del Norte Trail, heading to camp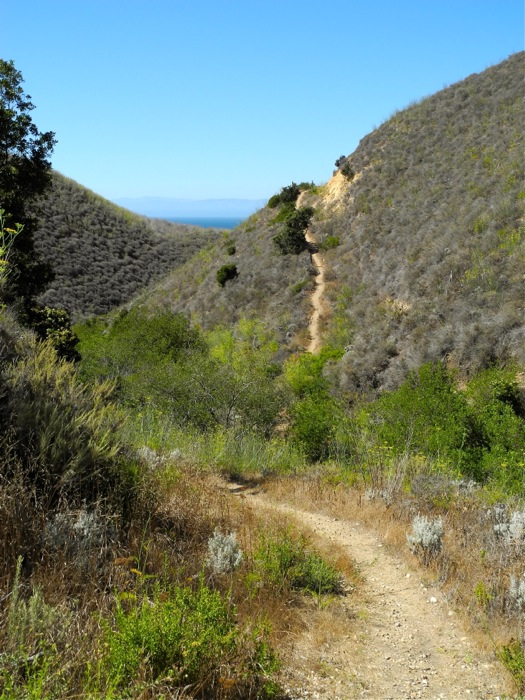 The camp sites are minimal with the standard picnic table and food bin. Coming prepared is essential as there is no water or cooking facilities. The outhouse (roofless) ranked as one of the more rustic I've encountered, but it was all part of it. Every moment under the big sky was pure joy. I was instantly feeling at home here with glorious sunsets, then waking up to the equally awe-inspiring sun rising over the ocean. Ahhhh…
The island fox were a mischievous lot, active day and night, always watching for unattended bags and scraps left behind. The food containers were ample however, so these native critters just scurried about being bold when they could, their longing eyes staring at you and your packs. After a little night chill, I settled in to tent life and took comfort knowing the fox were highest up on the food chain here. Yes, did I mention I haven't camped in a while? I slept well with this thought in mind.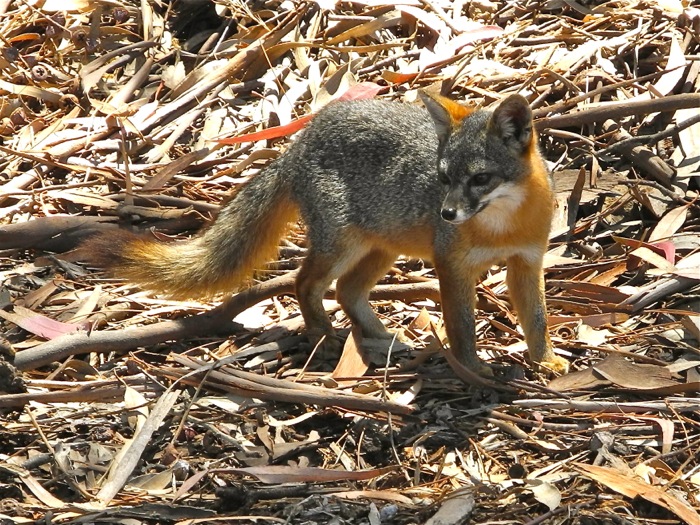 We did not pay much mind to the fox as they were becoming part of our surroundings, until one (or more) went so far as to steal a watch from the picnic table. My brother Bob searched everywhere until I discovered it a distance from his tent tucked away in the brush. Somehow the fox even managed to change the time! Ha, we got a good laugh over that. Who needs time–right? They look pretty healthy so we suspect they do fine living off the land with a small trickling stream nearby for water.
Before leaving Santa Cruz, we took time for one last exploration to Pelican Cove, stopping first for a view from lookout cabin. Soon after we found a perfect clearing to enjoy a nice lunch break with a full scope of Prisoners Harbor, pier, and distant road to camp. The path to Pelican Cove is narrow and twisty in areas, up and down with tight man-made stone stairs connecting some of the trails. Offerings of cool tree shade along the way was a nice respite from the hot sun. This area is maintained by Nature Conservancy, via guided tours, although we missed them and happily became our own guides. Really loved this place, a fitting way to end our stay. Can't wait to go back and do it all over again!
Anacapa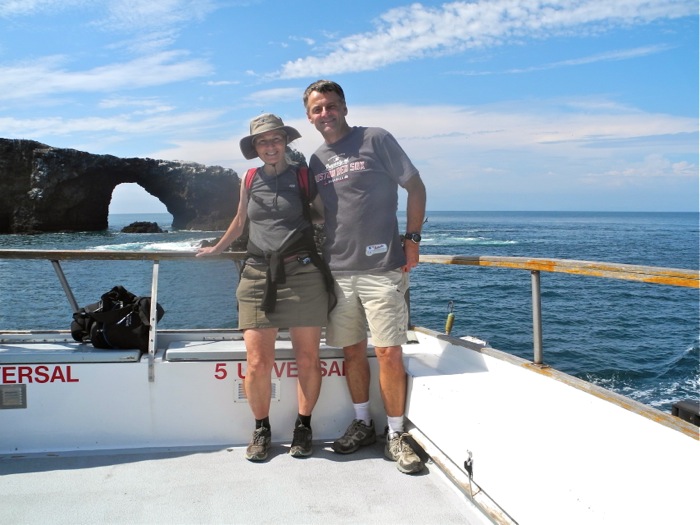 On board Island Packers boat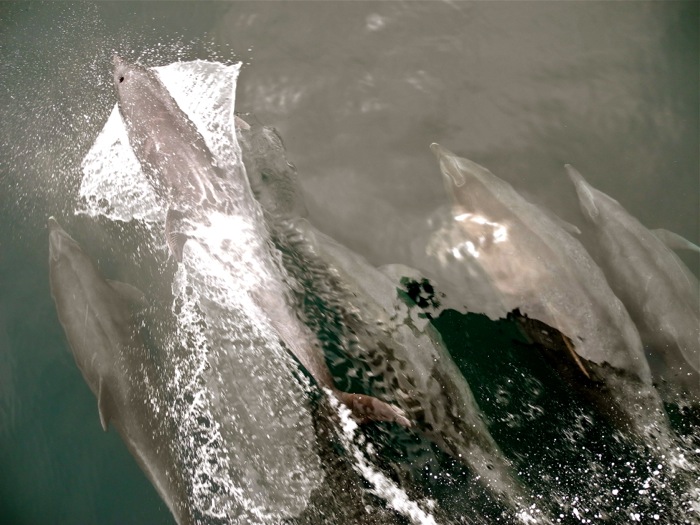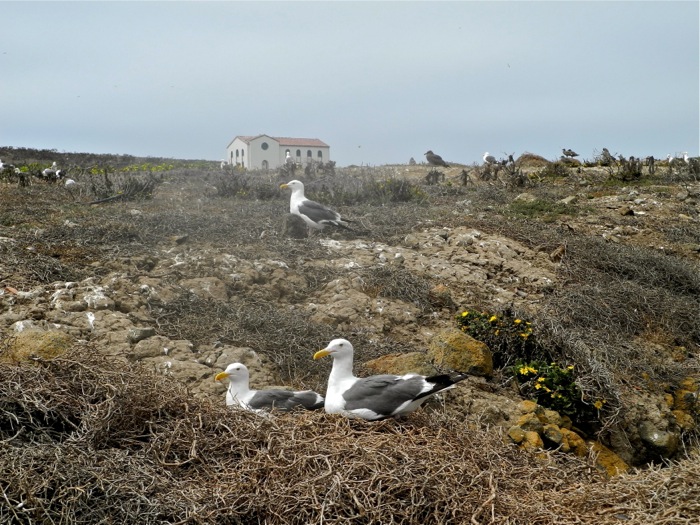 After our amazing adventure on Santa Cruz, my brother and I took a chance visit to Anacapa. It was mid July, another beautiful summer day awaited us. On the boat ride over we encountered many dolphin pods who seemed to be enjoying the ride too. I was amazed by the sheer number of them keeping speed with us.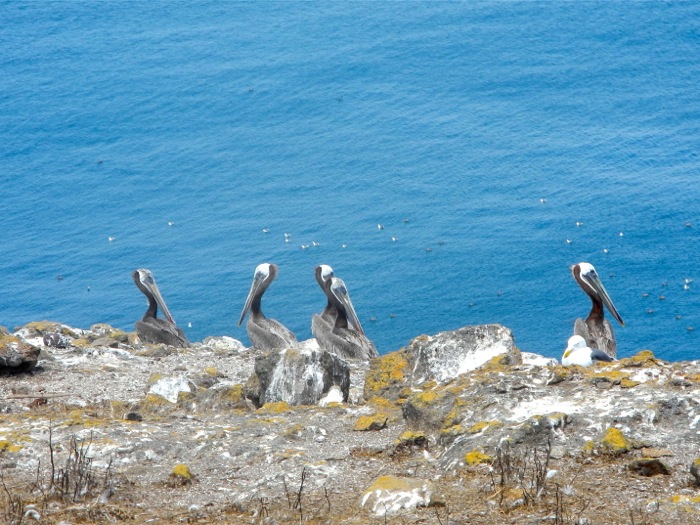 We learned that this island has the largest protected breeding colony of western gulls in the world. Thousands gather during nesting season from May through July. It's almost deafening in sound, not to mention the smell and sight of thousands of these birds covering the entire area. Hovering overhead, we were clueless as to the behavior of gulls during mating, so we waved our arms now and then to let them know we were there. Honking sea lions below and pelicans among the mix added a lot of color to our day!
We personally did not encounter any problems with the gulls. In fact, the bird and sea life seemed completely unflustered by visitors, going about business as usual. After a while we settled down on a perch of our own and continued to observe the frenzied activity around us. Looking out to the ocean, every vantage point is spectacular…a breathtaking island!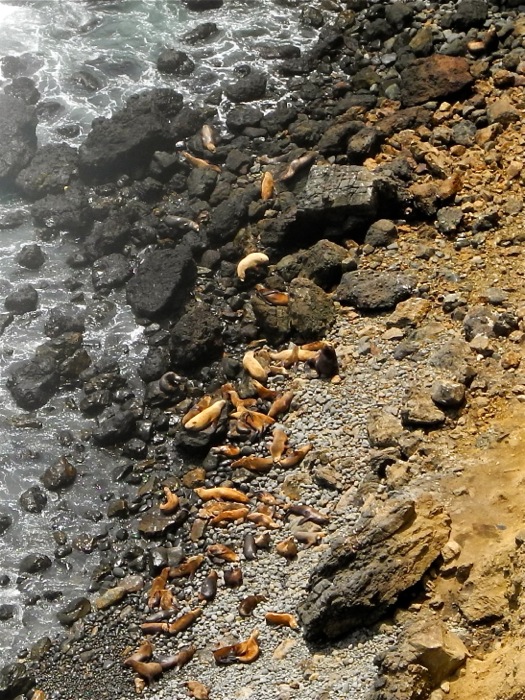 I really love the high bluffs of Anacapa and its captivating shapes. Also the two hundred and fifty stairs one needs to climb if you want to reach the top. It's one of the smaller islands, quite intimate and distinct for these features. I've been here in summer and winter, hopefully next visit will be early spring when the island is truly lush with wildflowers.
The most noteworthy thing about Anacapa are the majestic views upon arrival and departure. Arch Rock, vertical cliffs and the historic lighthouse above, make a gorgeous silhouette that is meant to be viewed until completely out of sight. That was my last image of the island as the boat made the journey back to mainland.
Such great history. I truly enjoy learning about all of the islands, especially after being here at various times of the year. It deepens my love and appreciation of them all the more. To connect over time, in life and spirit, is the best feeling. Nature is an amazing gift.
Ocean bliss forever…