July 11, 2015  – Thanks to all the participants who came out to spend a Saturday with me learning the art of bead making with paper. All of the jewelry creations are truly beautiful and will be on view at the Parker Hill Branch Library on Tremont St, Mission Hill, MA, the host venue for workshop. The gallery display will run from July 13 – August 13 so if you are in the area, check out the great work. Awesome job everyone!

Fun active day. We had delicious refreshments, made many jewelry pieces and I even managed to get a few photos, including my favorite…the traditional group picture!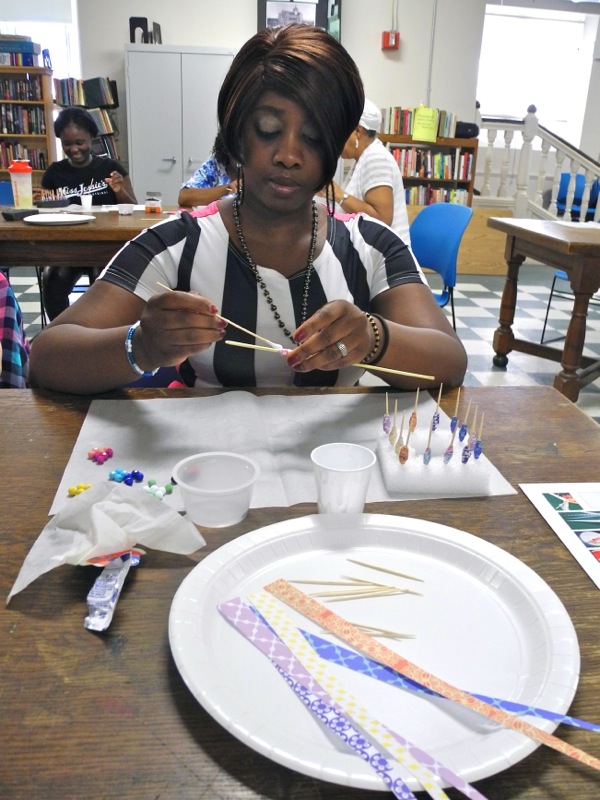 The Mission Hill Artists Collective, Mission Hill/Fenway Neighborhood Trust (MHFN), Mission Hill Main Streets, and Parker Hill Branch Library, with the support of MHFN Trust Grant, make it possible for these special events and workshops to be presented throughout the community. I'm so pleased that both of my proposals were selected.
My next workshop: Interpreting Community through Collage, will also be held at the Parker Hill Branch Library. I'll be looking toward a gallery show of the artworks by the workshop participants, and hopefully extend a "call to artists" in the area for inclusion in my community themed project to be showcased at the library. I'm excited just thinking about it. More will be posted soon. Special thanks to Lydia Polanco, and to Katrina Morse and staff at the Parker Hill Library for making this a smooth and enjoyable event.
When I had a chance to look at workshop evaluations, I sensed everyone had a good time. I'm happy to read these comments:
"Fabulous workshop, enjoyed every part of it, therapeutic!"
"Great workshop"
"I hope there will be more classes like this. Very happy with everything and everyone."
"Loved it! Thank you!"
"This is one of the best workshops I have been to. Loved it"
"I loved everything about it! Love it, Love it, Love it!"
"I will be sharing this craft with my weekly arts group! Really enjoyable!
"Please permit me to thank you for sharing your skills with all of us who attended the Jewelry Workshop at Parker Hill Branch Library. You helped put smiles on our faces as a result of our art work accomplishment. The workshop was indeed educational, fun and fulfilling. I am much pleased to wear the bracelet that I made."
More about the workshop and Mission Hill Artists Collective at: https://missionhillartists.wordpress.com/the-art-of-bead-making-with-paper-on-display-at-the-parker-hill-branch-library/
Thanks again everyone, I really appreciate all these kind words and the support I've received. There is a lot of love and gratitude here ~
Robin