Recent New England travels became unexpected opportunities for adventure as I revisited family destinations from long ago. The feel of wind blown hair and the warmth of the sun, light ocean breeze and lush green landscape, the scent of pine–all wonderful connections to nature and to my roots.
My parents were outdoorsy adventurous types–before and after raising us kids. I like to think I've inherited their playful spirit. As a family we loved picnic lunches and getting away for a day or so. It never took much to make a trip grand. As I reminisce life on the beach, one such place quickly comes to mind – Rockport. We grew up on the Hough's Neck peninsular, spending much of our summers on Boston harbor islands and the little beach around the corner from our home. Salty air, wharfs, islands, fishermen, digging for clams, swimming–all a big part of my upbringing.
The seaside community of Rockport may seem similar, surrounded on three sides by water, but it was a frequent getaway for us. The rental we shared fifty years ago is still there, perfectly located above the cozy community on Front Beach with a back stairway that puts you right on the beach itself. Naturally I could not wait to stamp my prints in the smooth wet sand and watch the water ripple about my toes.  A short walk from the beach are little shops, once former fish shacks. Built directly on the ocean rocks of Bearskin Neck, the heart of Rockport, my slice of this paradise for our recent visit was a rustic motel.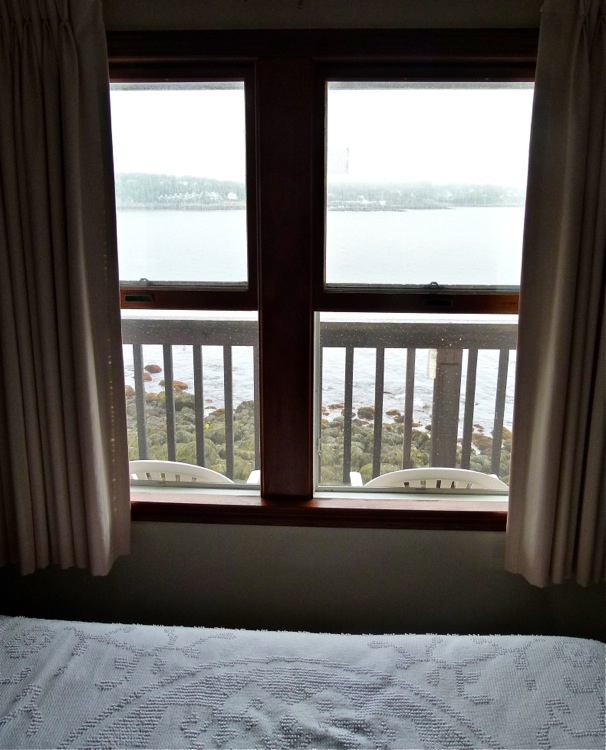 The beds were adorned in traditional white cotton spreads giving the room an old New England flavor. The restful seaside view was complete with the mesmerizing sound of surf, the screen door giving way to the balcony, beckoning you below to the lovely outdoor patio and sweet strudel shop across the street. A visit to my favorite swing set in the meadow, and delicious treats from the local candy store, made this stay all the more endearing. In fact nothing much has changed since childhood. Each time I arrive here, I'm happily reminded of that!
From Rockport, a spontaneous visit to Waterville Valley, New Hampshire made the week complete. Everything is so green this time of year and the weather was perfect, making clear views all the more spectacular. Back in the day we used to rent a little cottage in the White Mountains. Aside from the popular attractions that make this region unique, I remember basking in cool riverbeds gleefully getting wet then drying in the warm sun. Now trying to jump from rock to rock does not feel so easy, but the refreshing experience of the river was truly healing for my body and soul. I secretly hoped to slip in getting fully wet–almost! I savored every moment of the clear cool stream as the rapid currents rushed through my legs making footing rather precarious.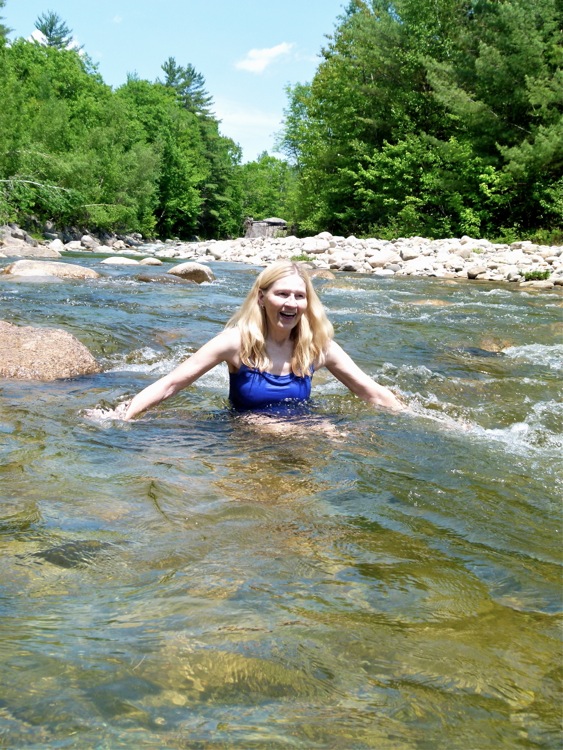 The older I get the more my emotions conjure memories of both joy and sorrow. It is natural to have mixed feelings, yet we know nothing gets easier as life goes on, and nothing of the past will change the present. Allowing yourself to live in the moment and enjoy simple pleasures make things just seem better. I appreciate life more than ever now. Dreams and goals can happen when we work at it, but a loving heart and treasured memories is something found only within us. My mom has been gone almost forty years now, but I always feel her presence. I am left with tender reminders, photographs and stories, and my own special keepsakes. My mom and dad left indelible footprints in the sand and the paths that I walk. It's part of who I am.
Footnote: I created this post while fresh in thought from time away. Childhood memories was not something I intentionally started out to write about, yet being close to the very places that brought joy to our lives, compelled me to do so. Recently a friend made lovely comments about my website and photographic banners, especially noting my foot images. I thought that was a cool perception of me, one I intended to focus on. I began to imagine how far my feet have taken me over my life thus far. Images became a vehicle of healing while I was not able to ride my bicycle. I was on a different journey, slowing down the pace, allowing the patterns of nature to flow freely before me. I'm back in the saddle now, but still plan to continue travel by foot as much as possible. I love all the sensations that go with it. My artistic ideas are also taking new shape, growing in thought with each new day. I'm looking forward to the coming months as I gain back the necessary strength and stamina to begin carving stone again.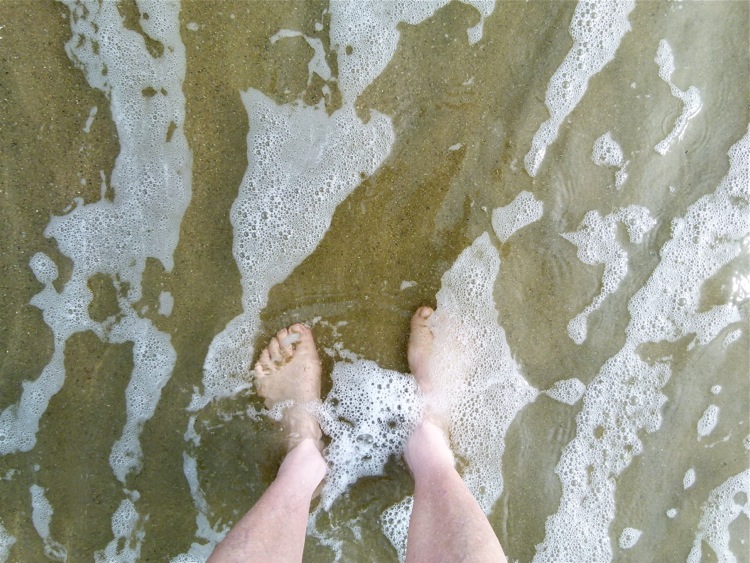 Till the next time…
All images and text © Robin MacDonald-Foley