"Interpreting Community Through Collage"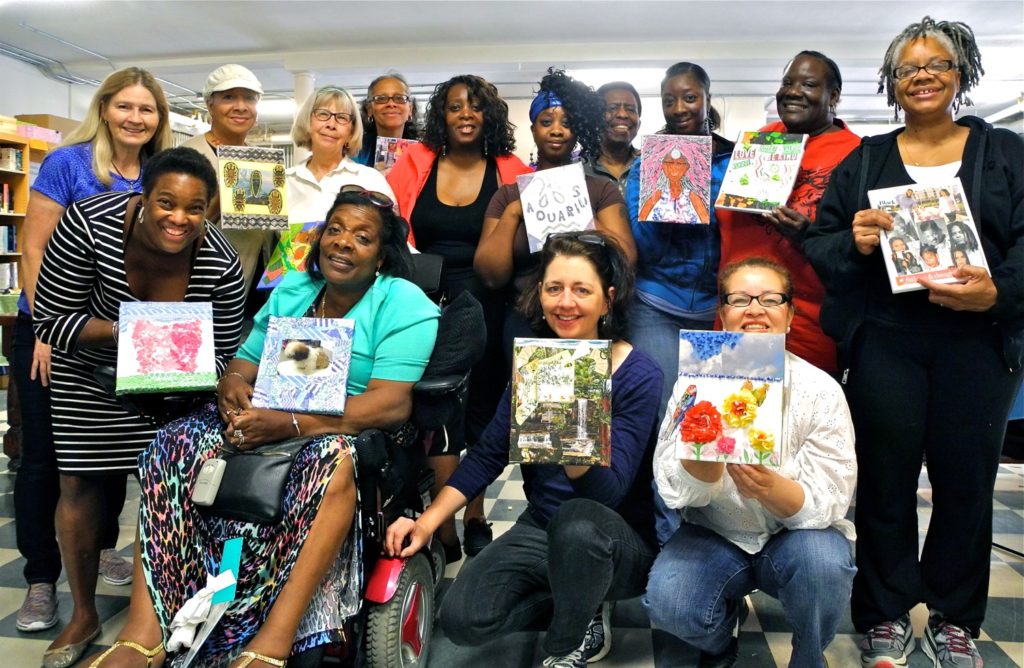 Workshop participants with their collages. Parker Hill Branch Library, May 14, 2016.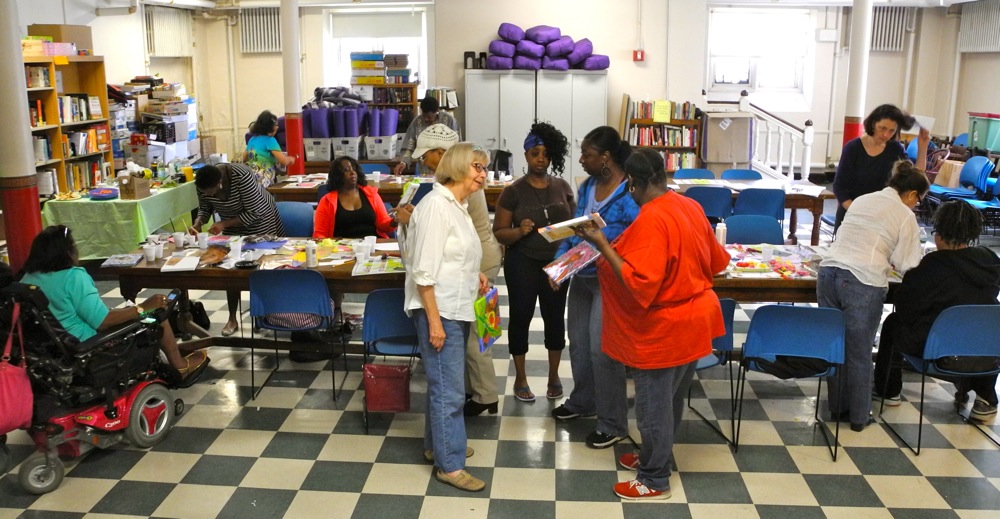 This past spring, I presented a collage workshop to Mission Hill area residents. There were some familiar faces, along with many newcomers. A great group!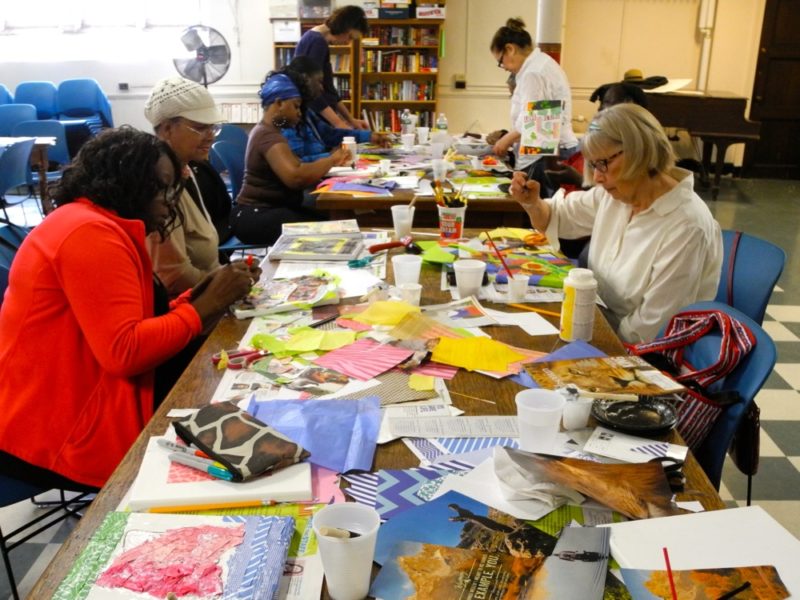 We began the day with introductions and delicious refreshments. I spoke about materials and included some interesting tidbits about the origins of collage. Participants were encouraged to bring personal items of their own, plus choose from a wide variety of materials on hand.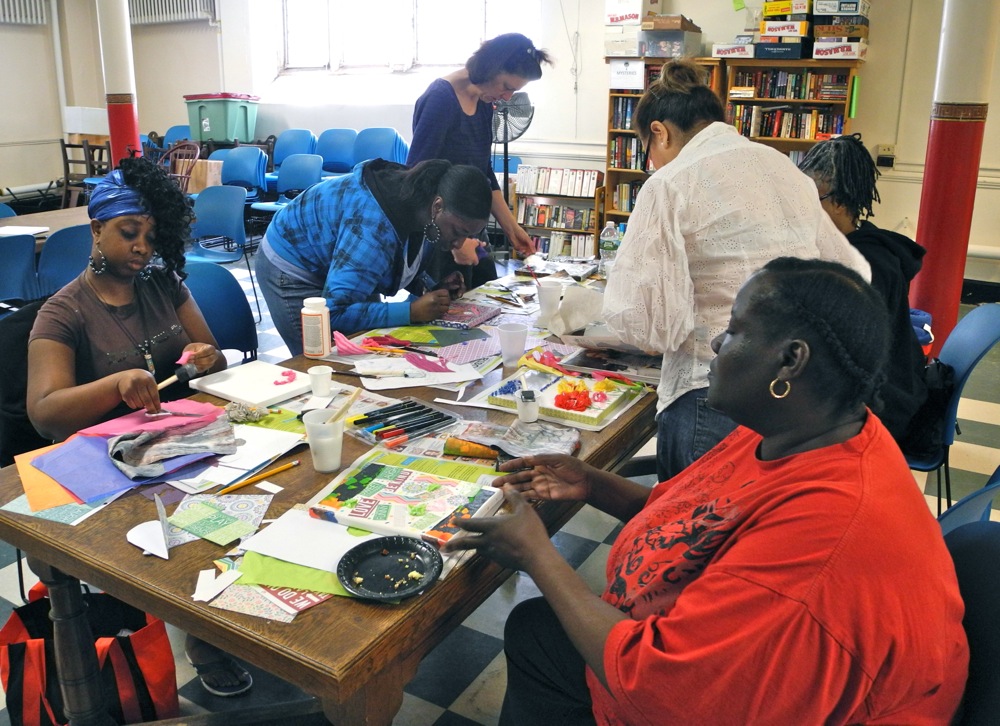 Colors, patterns, pictures, and text were selected and prepared for collage. Within a few hours time, there were no blank canvases. A whirlwind of activity began–cutting, arranging, pasting, and designing. Some creations had three-dimensional effects and interesting shapes. Each collage told a story. They were unique and thoughtful.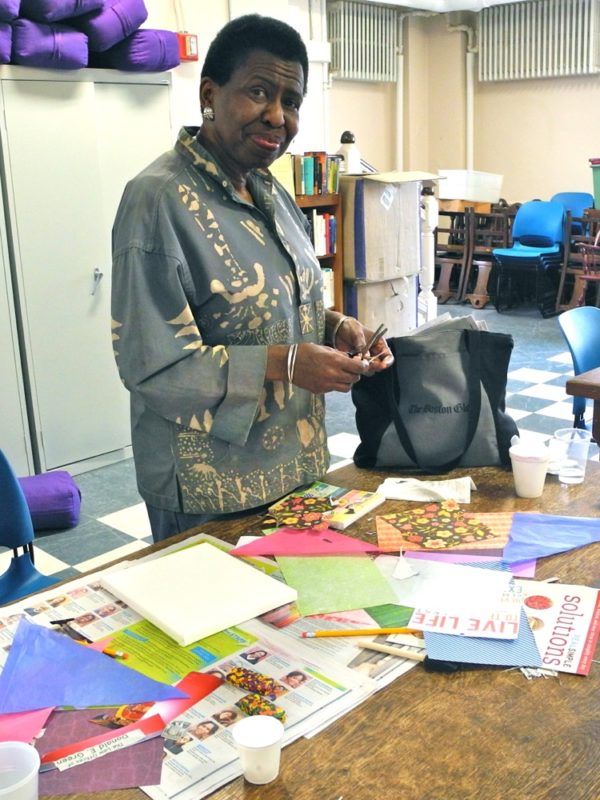 At the conclusion of class, we had a chance to talk about the work. I asked everyone to write one or two sentences about their piece. The words became an important part of the collage workshop.
When it came time for gallery installation, all went smooth and the results were amazing. On the evening of June 9th, we held a reception at Parker Hill Branch Library where we were treated to a festive night of art, refreshments, and great conversation. Friends of the Library hosted a book sale as well. There was something for everyone. Nice to see so many attend.
Special Thanks to the workshop participants for graciously sharing their artwork with the public. To Lydia Polanco Pena, Director of Programming, and Hermen Pena, Installation Coordinator, Katrina Morse, Parker Hill Branch Librarian, Staff and Friends of the Library. To Mission Hill/Fenway Neighborhood Trust, Inc., for continuous financial support. And to everyone that came out to see the show, thank you all.
Exhibit "Interpreting Community Through Collage" is on display through Friday, Oct 7, 2016, at Parker Hill Branch Library, 1497 Tremont St, Roxbury Crossing, MA 02120.
Working with this dynamic group was a great experience.  Thank you artists ~ Congrats on your beautiful work!
Until the next time,
xo Robin